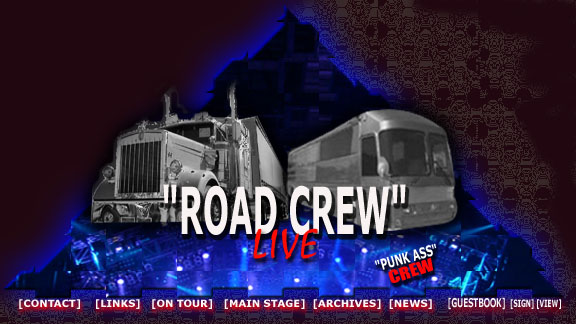 ---
Issue #2 of PuNK Ass Crew...Drum Tech Kenneth Sharretts!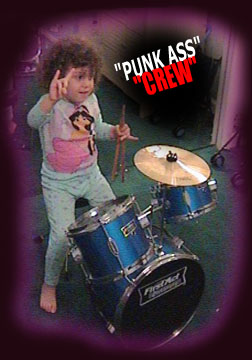 Rcl -Q- Welcome to RCL Punk Ass Crew. You are a drummer and a drum tech. I think many readers don't realize just how hard it is to make a buck as a musician starting out. Pro Crew get paid well. Is this the reason you are teching now, instead of being the performer yourself on the kit? How long have you been a pro punk ass tech?
1. While I will not deny that the money is a major factor in my choosing to tech, most of the reasons I tech are for the benefit of my drumming. I've been blessed to work with legendary musicians such as Kenny Aronoff and Chris Layton. Each show is like a master class. Every tour I have done as a tech has made me a better drummer, a better musician, and a lot more prepared for a pro gig. You learn how to pack for a tour, how to play well with others while living on a bus together, and how to get thru customs. You develop relationships with equipment companies and promoters. Furthermore, you will meet the producers, managers, and musicians who hire drummers and techs. Let's be frank . . . it's not like you can just hop onto monsterjobs.com and look up listings for rock star. Another reason I tech is I like getting paid to see the world. Don't get me wrong, it is hard to be that close to your dream and not be the one in "the hot seat". I make enough as a tech, however, that when I'm at home, I'm able to focus on drumming, composing and my career as a player. The bands I tech for trip on me because I will fly home on a tour break, walk off the plane and go straight to a gig. I've been a tech for a little over 5 years and I've got to say that if the worst thing that happens to me in life is that I got paid a butt load by rock stars to travel the globe and kick ass for them, then I am truly blessed.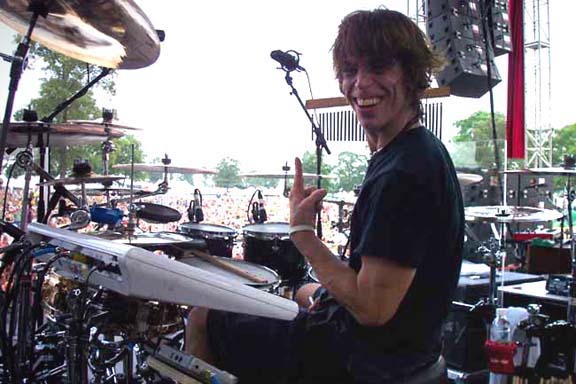 Rcl -Q- What is your ideal drum kit to play and or to set up and tune. List cymbals as well.
2. That is such a loaded question. LOL!!! There are so many wonderful drum companies out there. As for my personal preference, I own a beautiful set of DW's and I've never been happier. They really allow for precise tuning, and they sound great over a broad range of tensions and tunings. On promo tours, I see a lot of uncared for rental kits. Yamaha, and DW drums always tune up well no matter how much abuse they have seen. The drum and cymbal sizes I like to use all depend on the musical application. My all time fave set up though is 10", 12",14", & 16" toms (standard depth), a 22"x 18" or 22"x 14" kick, and a 6.5 "x 14" Black Beauty or a 5" x 14" wood snare. High Toms on a stand set in the offset "dbl. bass" position for max power and balance. As far as Cymbals go I LOVE THEM ALL. Personally, I am a Zildjian/Sabian guy. Joss's drummer uses Sabian and after this tour I can't say enough about their commitment to quality, innovation, and their endorsees. Mid-tour with Joss, the drummer had me swap out the 18"and 19" HHX crashes he used for the big hits, with the 18"and 19"crashes from Sabian's new Vault line. We were floored. Bright and powerful enough to fill the large halls we were playing, yet lush enough to compliment the R and B/ soul sounds of Joss's music.
Rcl -Q- Whats your take on drum triggers in comparison to straight micing of an acoustic kit.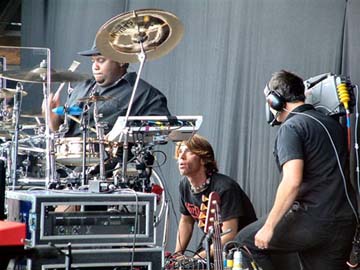 3. Well since I usually have to take the rig I'm given, my take is to take what I get and RULE with it. LOL!!!! No really, if a kit is well tuned, well mixed, and well played you shouldn't "need" to add in triggered sounds. Contemporary Pop, Hip-Hop, and Rap, however, are replete with the use of loop-based grooves and electronic kick sounds that you must be able to reproduce in a live setting. If you want to rule that is. For hard rock, and metal (especially speed metal) a triggered kick sample is almost mandatory. They can be a bit of a pain to deal with because they are subject to wear, malfunction and of course misfires due to sensitivity and cross talk. Especially when triggering loops. Nothing makes a rock star feel more vulnerable onstage (and therefore more likely to yell at you) than the appearance of "the accidentally triggered and totally musically inappropriate loop". Yes Alex, I'll take "Fired on the Spot" for $300 please. LOL!!

Trigger issues can lead to artist issues as well. I once had a client tell me his triggers were starting to feel weak. I explained that it was time to replace the filaments. He, however, thought I was some punk ass crew guy trying to get one by on him and therefore spent three weeks having me try every possible solution he could think of. One day he walked into sound check with a bag of replacement filaments and threw them at me as if to say "let's see what you can do with this tough guy". What he should have said was "I called the trigger manufacturer myself and he said my punk ass tech was right". Dude, that was a long three weeks.

Rcl -Q- What size of drumstick do you see as most common, and why do you think this is? RCL prefers 2b butt end. Major attack.

4. The most common size I see is the 5B, or some variation on the 5B theme. I think it's because I have worked mostly for rock drummers. A 5B gives lots of attack and heft to the drum sound, is heavy enough to wail with, and yet it is light enough to provide some dynamic sensitivity. For all out balls, however, you are right; NOTHING beats a 2B butt end.

Rcl -Q- You have worked for Kenny Aronoff. What do think the key is to Kenny's success? He is one of the most sought after studio cats there is. Is he a good guy to work with?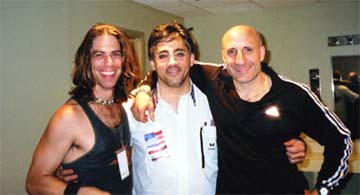 5. First of all, yes Aronoff is a great guy to work for and with. Fun, funny, and considerate. He is unbelieveably driven. He expects the utmost in professionalism, but he is understanding and kind. He helped hone my skills at being proactive as a tech rather than reactive. All these characteristics contribute to his success. Moreover, Kenny is unwavering in his commitment to "playing for the song", hence the reason producer's actually ask for Kenny's input. When faced with a challenge, he just digs deeper. He is sought after in the studio for about a gazillion more reasons, but I think the A#1 reason gets the call is that damn ultra stroke he uses on the snare. He basically whips the drum until it begs for mercy by giving Kenny the best sound possible. Lest the drum incur the wrath of the Aronizer. LOL!!!!!!
Rcl -Q- Give us a list of artists you have teched for in your short crew career to date. Who are your fav's and why?
6. I have been so lucky to have teched for 3 guys whose styles literally shaped my playing. After Kenny, I worked with Chris Layton of Double Trouble. What a gentleman. What a kick to work for one of my hometown heroes. Stevie Ray and Arc Angels CD's were an essential part of an Austin drummers practice regimen. If you wanted to rule that is. I owe him for my shuffle. After that I worked for Michael Urbano with Smashmouth. He's been an idol of mine since college. His work with Bougeouis Tagg and Todd Rundgren gave new meaning to the word taste. Urbano is as funky as funky gets and has the sickest pocket. Bay Area represent. He's the nicest guy too.
Rcl -Q- We at RCL are big NFL fans. What was it like working for Smash Mouth at Broncos vs Chiefs half-time show at Mile High. Is it kaos to set up and run on time etc. Did you notice the air really thinner for breathing at Mile High.
7. I am a big fan of the NFL as well and let me tell you being right near the field for the game was awesome. The Broncos organization was first-class. It was a bit chaotic, however, getting on the field to perform. We were accidentally sent out early. There was a penalty against the Denver defense on the last play of the half, but the Broncos had headed to the locker room. The Chiefs were quite vocal in expressing their desire for us to get off the field and the Broncos to return. I went to UT with Priest Holmes (Hook 'em) and believe you me he looked a lot bigger on that field yelling at me than he did in Biology class. LOL!! We left the field, reset for our entrance, and carried on. The coolest part was that the TV image of me rolling out on the drum riser . . . then back in, . . . and then back out became an ESPN highlight for three days. Sweeet! Oh and yes, the air is a lot thinner.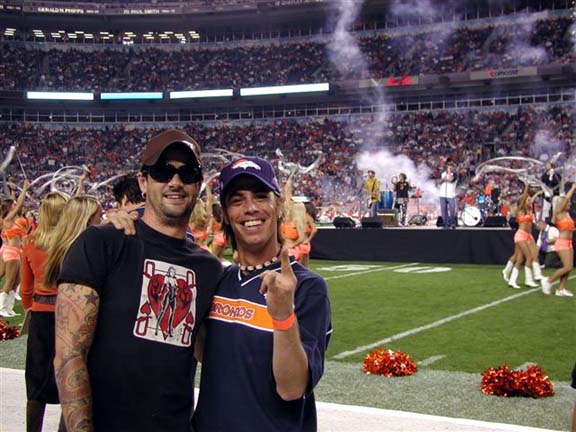 Rcl -Q- What bands have you played drums in yourself. How far did they go? Any record deals or recordings?
8. My first post college band, Vox Box, did well in Austin, put out 1 independent CD, toured, got close . . . but no deal. During and after that I honed my skills as a hired gun with a bunch of Texas legends such as Rusty Weir, Joe King Carassco, Black Pearl, and George Devore. Right before I began teching for Aronoff, I was called upon to fill Kenny's shoes with a brilliant Alt Country singer/songwriter named Gary Stier. Gary's CD "Albatross" (331/3 Street) was produced by Danny Kortchmar and the players on the CD included Aronoff, Mike Campbell, and Benmont Tench. Gary's road band was totally smoking as well. The best part was that I also sang harmony while playing. Again close, but no cigar. Thanks for reminding me bro. LOL!!!!
Rcl -Q- You have been out with Joss Stone for awhile now. How is her cat on the drums. Seems like a finesse player. Young guy as well for a profile gig like that. Fill us in on your relationship with him, and talk in depth about what gear you have to set up and deal with every night.
9. Caesar Griffin is an amazing drummer. He is a freight train of groove. He crushed (yes, crushed) his bass drum pedal during our London Live 8 performance, and yet he never faltered. He just locked in up top while I got the back-up pedal in place. Caesar is the first drummer I have worked for that wasn't already ultra established if not a near legend. We've built our relationship from scratch on trust and mutual respect. Now our vibe on stage has evolved almost into telepathy. It's hella sick. He chose to utilize the experience and resources I acquired during my time with Aronoff and Co. and I adapted and utilized my skills to fit Caesar's needs, not anyone else's. I have a degree in Business, so he feels comfortable with me taking care of his endorsements when necessary. He is a finesse player, but don't let his technique and those little Pro-Mark 7AN's of his fool you. He hits hard with those chopsticks. His set up is pretty elaborate. He uses DW and has 7"x 8" and 8"x 10" toms up top, w/ a 12"x14" tom to the right. All suspended. He uses a 5"x 13" wood as his main snare, with a 12" piccolo snare to his left, and an 18" x 22" kick. His cymbal setup includes 4 Crashes (16",17",18" and 19"), 4 splashes, 3 china's, 2 sets of hats, a ride, and an O-zone crash. Amongst the cymbals are scattered a set of LP double row chimes, an LP Jam block, 2 SPD7 pads triggering a Roland SPD-20, and a Yamaha click station. All this was mounted to a huge custom built (then rebuilt by me) Gibraltar rack. Sweet!!!! Gibraltar gear rocks completely. With Joss we use in-ears from Ultimate Ears, so for Caesar I installed a Tactile Sound Platinum butt shaker on his throne. We also used a 5ft tall, 6-panel Clear Sonic drum screen to lower the stage volume pouring into Joss' mike and to beef up the drums sound in the mix.
Rcl -Q- How is the road treating you. Any cluster fux on stage or traveling you can recall in 2005?
10. The road has been awesome. My partner in crime with Joss, Ryan Huddleston (Guitar/Keys tech), is totally cool, and totally kicks ass so that awesome. We were taking care of 9 people on stage and we ruled the whole way. The tour to Europe was a blast as was opening for the Rolling Stones. As far as cluster fux go, we did have a truck driver in Europe who got held up at a border crossing and didn't make it to the gig until 6:00 pm. Doors were at 7:00 pm and curtain was 7:30 pm. We went ahead and set the opening act up early, built our gear around them, and after total domination by our little four man crew, we only had to push doors back by five minutes.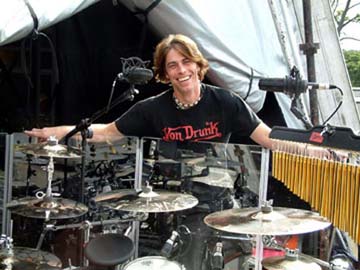 Rcl -Q- What does the future have in store for Kenneth Sharretts? Any new projects of your own in store, as in you playing drums live.
11. As a tech, I have some potential tours and studio work on the horizon. I'm also hoping more drum tuning and maintenance clinics. I'm currently planning one in Ft. Smith, Arkansas in February and an Austin clinic in March. Since I've been off the road, I have been playing nonstop. I've picked up a few studio sessions, and tons of club gigs. My Black Crows tribute band "Greasy Little Toes" is going full steam, and I'm writing and playing with a 16 yr old guitar whiz named Carson Alexander. He is unreal for such a young player. Also, I just wrote and recorded a handful of new songs that I'll be shopping very soon. You can check it all out at www.kennysharretts.com.
Rcl -Q- Kenneth..great chatting with you. This is your chance to plug all your friends and projects, web sites, what ever you wish. Your a champ, and issue # 2 of RCL PUnk Ass Crew. Thanks man!! Be safe out there and keep up the good work.
12. Thanks for having me. The web sites are www.kennysharretts.com and www.carsonalexander.com You can check out what Ryan H is up to at www. impentris.com THE Austin band to check out is Del Castillio. Unreal Guitars. It's like the Gypsy King's meet Van Halen. They will make your guitar player PRACTICE!

"RCL STAFF" Editor & Chief- Darrell DWaRf Millar....Web Design- Unkledunk Multi-Media...Field Team- Rock Show Personal Inc...Host- Darrell Millar's Time Capsule 2002-2005..This site is non-profit and paid for by DMTC.
All rights Reserved RCL 2003-2005 [CONTACT] [LINKS] [ON TOUR] [ARCHIVES]