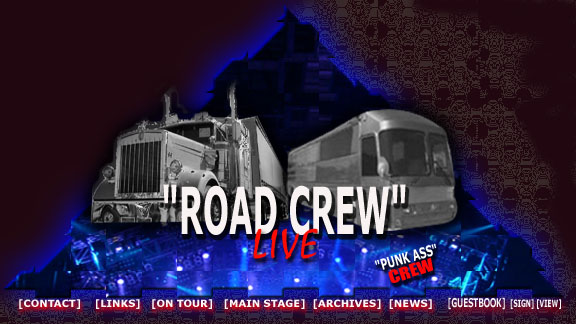 ---
This site is dedicated to my many friends in the professional Tech and Road Crew Industry. Without the hard work and dedication of the tireless Road Crew, we muso's would be unable to ROCK!! Thanks Brothers. A rotisserie of star crew personal will be posted regularly....Enjoy!!! "RCL"
This issue's feature #7 is guitar talent/tech Sammy Bones/Cinderella. To start this off...watch Sammy Rock HERE!!
RCL-Q- We at RCL had the pleasure of touring with Sammy Bones on the ZZ Top/Lynyrd Skynyrd/Laidlaw tour in 2000. Sammy was working for Ricky Medlocke. How was ole Ricky to tech for?
1. Rickey was good to work for, he is a great player and a good guy. I love the brass picks that he plays with. I also did Hughie's guitars as well as Rickey's. They both have great vintage gear and great sounds and listening to Skynyrd every night on tour is never a bad thing. They had some new songs on their set list as well as may of the classics with a few of my personal favorites such as "Simple Man" and "That Smell"

Lynyrd Skynyrd 2001


RCL-Q- This question is a repeat question around RCL. You are most definitely a crew/rock star/musician. Tell us about your guitar playing skills.
2. I can play a bit. I used to teach guitar for about 3 years in my early 20's. I own about 15 guitars myself. I hate to talk about my playing skills, but since this is what this question is all about... I have prepared a 3000 word essay for you. ...just kidding. I've been able to fill in here and there with several different bands on tour and I have enjoyed playing many sound checks with lots of different bands including Skynyrd, Cinderella, Poison, and even some country bands like Deana Carter.



RCL-Q- You are currently out with Cinderella. Do you still make appearances on stage and play guitar with the band during shows?
3. Well, as of me writing this, I am not sure, we are not out on tour yet, but will be in a few weeks. I played on stage with the band during "Shelter Me" on the 2002 tour, but I do not know if they need me this year. I will be ON THE TOUR, but I am yet unsure if I will be playing on stage. I did have a GREAT time on stage every night and it was a GREAT thing to be able to play in front of 15,000+ people every night. I am used to the stage anyway, but it was great being able to play with such a great band.




RCL-Q- You tech for Tom Kiefer. Do you have a good relationship/friendship with Tom?
4. Yes, I also tech for Eric at the same time and I have also teched for Fred and Jeff in past tours also. I have a good friendship with all of them. Fred stood up with me in my wedding and Tom was there also. ALL the guys in Cinderella are the kind of friends that you want to have. They have done many things for me on the road and in my personal life. I just cant say enough good things about them.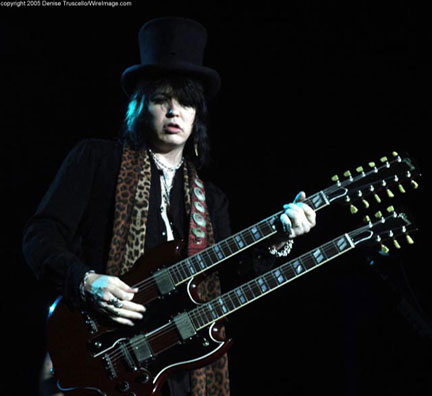 RCL-Q- What instruments do you or can you tech mainly?
5. I can take care of any stringed instrument, guitars, amps, drums, keys, brass, woodwinds, keyboards, just about any musical instrument. Although tuning a violin during a loud rock concert has proven difficult.

RCL-Q- Tell us about Sammy Bones such as bands you have and are playing in yourself and about your elaborate guitar collection?
6. Well, I had a band in the late 80's that had a small developmental deal, but that fell apart and I have been working behind the scenes ever since. I have my guitar collection on display in my house in one room. To name a few, I have a really cool looking violin shaped guitar that Paul Gilbert from Mr. Big gave me. I also have some BC rich, Gibson, Fenders, and an Alvarez acoustic with a really cool "built in" tuner. I have a Dan Electro Baritone, a Mandolin, Violin, and a few other instruments lying around.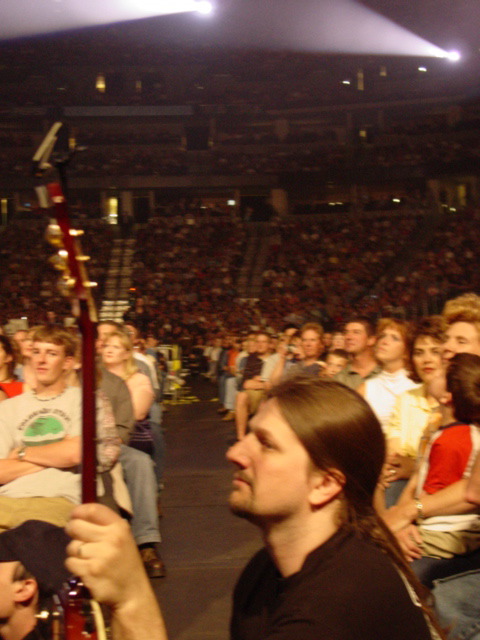 Sam in Denver
RCL-Q- What is your gear of choice for guitar. Amps, pedals, guitar companies etc.
7. I like what ever plays good and sounds good. I don't care what the brand is. It depends on the sound that is desired. I like Marshall amps. Tom Keifer gave me a really cool Marshall plexi re-issue 50 watt head that sounds GREAT. He used it as a spare on tour a few years ago. He also gave me a Marshall 4x12 cabinet. I like going from the guitar directly into the amp with MAYBE a touch of delay.



RCL-Q- Where are you residing off the road these days and why did you choose this city.

8. I live in Nashville, Tennessee as several of the Cinderella guys do. There are many bands and artists here, from country to rock, rap, gospel and everything in between. I moved here because it IS Music City, and it is WAY cheaper than California, but it still has sun and the warmth of the south.

RCL-Q- What is the future holding for you as far as touring, and what bands have
you worked for in the past on major tours?

9. In 2005, I will be touring with Cinderella all summer, but I have done some shows this year already with David Lee Roth, Deana Carter, and Wynonna Judd. I have also worked
with others such as Poison, Lynyrd Skynyrd, Dave Navarro, Paul Gilbert, Billy Dean, and a few others.



RCL-Q- Any up and coming acts you see doing well we should know about?
10. There are so many bands that are great and have potential..... I think that Britney Spears girl may do well, but I am not sure.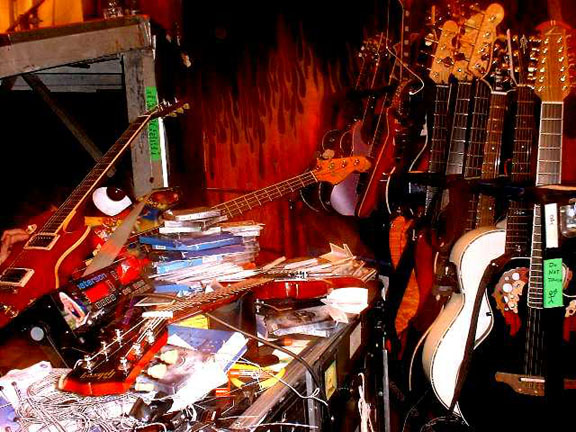 Sammy Bones Guitars

RCL-Q- From what you see out there, do you believe Rock/Heavy Metal has made a
significant comeback in the music market?
11. It has come back in many of the newer groups. You can see the influence. Many of the bands that have already had success still have some great turnouts at their shows. The Rock Never Stops tour this summer has Cinderella, Ratt, Quiot Riot and Firehouse on it and that is playing LARGE venues and many of the Amphitheaters out there. Maybe you will even see the Killer Dwarfs on the Toronto show????? Don't know... just guessing...


RCL-Q- Sammy...from all at RCL..thank you very much for taking time out of your
schedule to answer our questions. This is your chance to plug your personal projects, websites, what have you? Be safe out there and we will be seeing you.
12. I have only one thing to plug... may seem a little odd coming from a rock n roll roadie, but it is such a big help and makes so much sense. It is a quote from the Bible in Mathew... "don't be a slave to your debtors"... wow. There is MORE than one meaning there. Thank you to RCL for letting me talk about all the stuff I love to talk about. PS, don't hold any spelling errors against me, I went to public school.
RCL-A- Don't worry Sammy. We got ya covered on the spelling. Your a spelling Bee Champion on RCL. Peace!!

"RCL STAFF" Editor & Chief- Darrell DWaRf Millar....Web Design- Unkledunk Multi-Media...Field Team- Rock Show Personal Inc...Host- Darrell Millar's Time Capsule 2002-2004..This site is non-profit and paid for by DMTC.
All rights Reserved RCL 2003-2005 [CONTACT] [LINKS] [ON TOUR] [ARCHIVES]