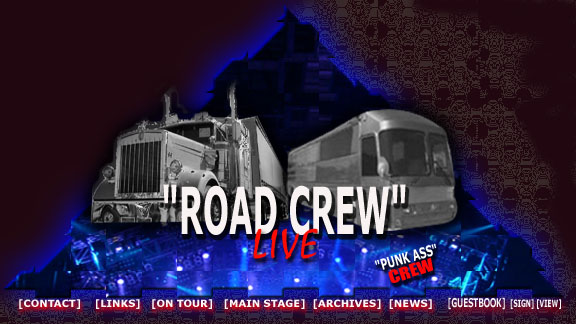 ---

This RCL Issue #9 is Crew Star Bill Barclay...Meat Loaf..Scorpions..Iron Maiden!!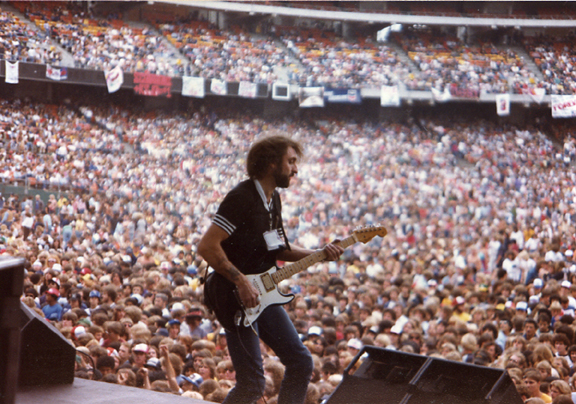 -RCL-Q- We at RCL first met Mr Barclay on an Iron Maiden tour in the UK in 1988. If we remember correctly, you were a guitar tech for Adrian or Dave. Which was it. How did you start your illustrious career in the music biz Bill?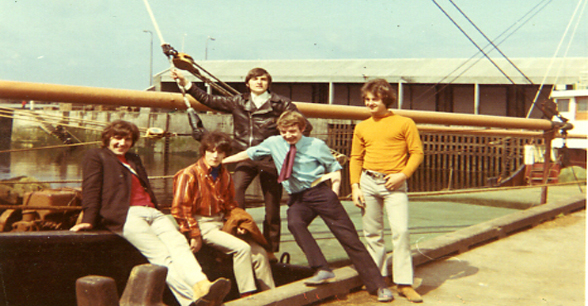 Bills first band "Mad"
1. I started with bands of my own in the mid-sixties in Scotland. I was the lead vocalist in The Hush-Hush, The Mad and The Churston Deckle Blues Band. We used to do weekend gigs in local village halls and working-menís clubs. That led on to working with some local Scottish east coast bands as their roadie such as the Blackhawks and Macbeth Periscope (opened for The Move and Fleetwood Mac). It was the days of the west coast pop art bands like the Chocolate Watch Band, Jefferson Airplane and Greatful Dead. The reason the band was called Macbeth Periscope was because we used to play the US nuclear submarine bases in Hollyloch Ė Macbeth related to Scotland and Periscope related to the submarines; thatís how the name came about. That led to meeting Hamish Stuart (bass/guitarist/vocalist for Average White Band, Paul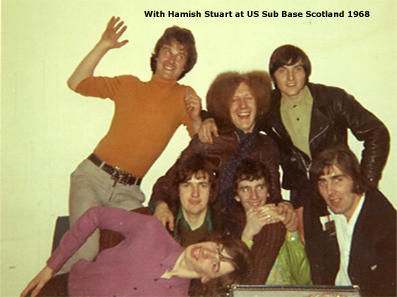 McCartney). Hamish was originally in a band called the Dream Police. We opened for them frequently at the American submarine bases in Scotland.Through them, I met a lot of other well-known Glasgow bands at that time (e.g. The Pathfinders, The Poets, Chris McClure Section).That stemmed my interest more so in the music business. I did that through the 60ís until late 1969 whereas I got on a bus in Edinburgh and headed to London to see a Mothers of Invention concert at the Royal Albert Hall and never returned to Scotland. I met a guy called Andrew Lauder, who is the head of A&R at United Artists Records. I started working for one of the new bands he had signed, an American vocalist called George Hatcher who had an English band Ė a southern boogie band similar to the Allman Brothers and Molly Hatchett. They caused a bit of a ripple for a couple of years. For the next few years I worked as a guitar tech, drum tech and keyboard tech . . . basically I was the tech for the George Hatcher Band. We opened for Dr Feelgood and Man. We toured the continent extensively. During this time I was living in London and hanging out with Lemmy (Hawkwind/Motorhead) and Dikmik (Hawkwind). I worked for the legendary cult band The Pink Fairies so I got to know most of the psychedelic/luminaries of the underground scene at that time. Eventually this led on to doing many shows at Hammersmith Odeon in London for the promotion company Straight Music. I did shows with the original Blue Oyster Cult, The Tubes, Utopia, The Commodores; Earth, Wind and Fire; Parliament/Funkadelic and many blues artists such as BB King, Albert King, Freddie King, Junior Wells and Buddy Guy, Sonny Terry and Brownie Mcghee . . . I was the general tech for many other artists during the 70ís including the Boomtown Rats (Bob Geldofís band). In 1981 I was the promoterís representative for the UK Duran Duran tour, and thatís when I met some old friends (Peter Kirkman, who now works for the Scorpions) at The Venue in London. They convinced me do one show at the Rainbow Theater as Dave Murrayís guitar tech for Iron Maidenís first London appearance with new vocalist, Bruce Dickinson. I decided to do this show as a one-off but received a call at Christmas time 1981 to look after Dave for a historic appearance of Iron Maiden at their old pub haunt, The Ruskin Arms in West Ham, London. I agreed to do it. After Christmas I received several phone calls from Iron Maidenís tour manager, Tony Wigens, to work as Daveís guitar tech for the Number of the Beast World Tour in 1982. Eventually I accepted and the rest is history . . . Iron Maiden was my main vocation until 1988, the Seventh Son of the Seventh Son Tour. My life was Iron Maiden. I recorded with them in the Bahamas, rehearsed with them in Jersey. Every minute of the day was Iron Maiden for 7 years. I could write volumes of the many experiences we had on the road. In í88 I moved on and I was the production manager for Joe Satriani and production and tour manager for Living Color and tour manager for Anthraxís White Noise Tour.
-RCL-Q- How did the transition go from the tech world to production office world. As of the last 10 years your main job has been for the most part, road manager/production manager etc.
2. Actually, the transition from tech world to production office world happened 18 years ago in 1988. By that time I had lots of experience, knowledge and exposure to live touring, so it was a natural progression. An old friend, Bernie Boyle called me and offered me the job as production manager for Joe Satriani.
-RCL-Q- List the majority of major artist's you have looked after over the years.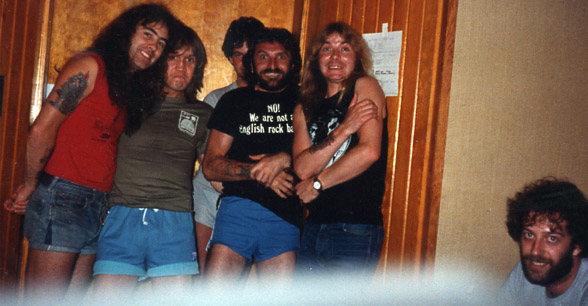 Compass Point Studios, Bahamas - Piece of Mind!!
3. As production or tour manager: Joe Satriani, Living Color, Anthrax, Kingís X, Dream Theater, Jason Donovan, Wet Wet Wet, Iron Maiden, Scorpions, Motley Crue, Sarah Brightman, UK Pop Idol, American Idol, Will Young, Gareth Gates, S Club 7, Bolshoi Ballet, Meatloaf, Foreigner, Zucchero/Pavoroti, Roger Waters (historic performance of The Wall in Berlin) and Celtic Woman.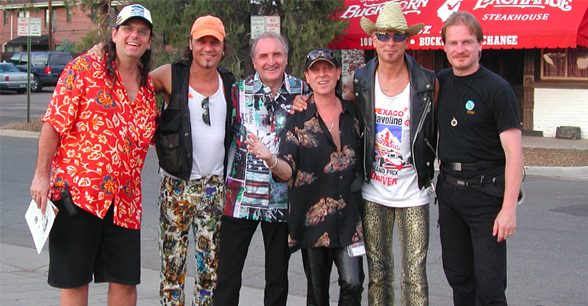 With Scorps at Buckhorn Exchange Denver!

-RCL-Q- Would you be so kind to share a story with the readers of a mishap with any artist, that your road managing skills had to work in overdrive. This could include hotel fires, furniture out windows, drug over doses. I think you get the picture.

4. There are many stories, but discretion takes prominence.

Although I can tell you about an incident I had last year with Meat and the Band. We were hubbing out of Manchester, England to our many European Shows on a thirty seater Charter Aircraft.

Returning from a show in Hamburg, Germany we were approaching Manchester Intnl Airport. As we hit the runway the steering on the front wheel failed, we were doing over 100 miles an hour, due to the skills of our pilot, (who incidentally trained US Navy Pilots to fly F14 Tomcats, he had over one thousand Carrier Landings under his wing)

We slewed off the runway and onto the grass and came to an abrupt halt, luckily everyone was ok and didn't really realize the danger of the situation until later that day. They closed down the airport and we had all the emergency vehicles around the plane, we were taken back to the terminal where we were interviewed and de-briefed, they also had a priest there to talk to us, that was creepy. -RCL-Q- Who are some of your favourite people in the music business.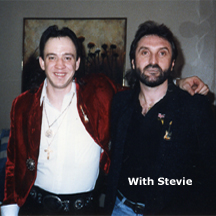 5. How many pages do you have? Iíve made a lot of great friends within the business. To name a few: Peter Kirkman, Tony Wigens, Cosmo, Robbie Price, John and Teresa Armitage, Bernie Boyle, Micky Curbishley, Terry Lee, Nick, Collie,and all the bands I have worked for and the list goes on and on.
-RCL-Q- Do you find that the internet has drastically changed the face of the Music Business. Several analyst's have stated that rolls have reversed and artists are making money from ticket sales touring , as opposed to Cd and Merch sales. Are you seeing this as true?
6. I would say that in some cases (e.g. Rolling Stones, U2) they make huge revenues with live touring. But in most cases, the revenue from arena tours most definitely do not reach the levels of CD sales where a major artist is concerned. Merch sales are also part of the live touring revenue. Although some major artists do very well from internet merch sales, the costs related to live touring are still very high and artists have to sell out venues to make any profit.
-RCL-Q- You have been touring with Foreigner in 2006. How is that going? Where did the tour take you?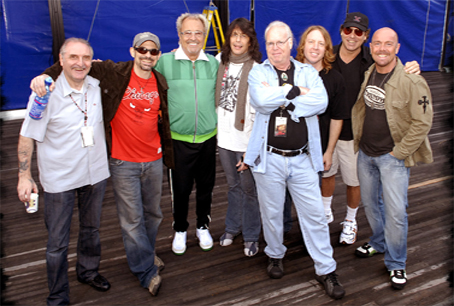 Bill with Foreigner
7. I was touring with Foreigner for the first 6 months of 2006. We toured in many interesting places (e.g. Costa Rica, El Salvador, Guatemala, Ecuador, Chile, Peru, Brazil and Argentina). Also toured North America, Mexico and Europe. I have since finished with Foreigner and I am now in the middle of rehearsals for Meatloafís Bat Out of Hell 3, Monster on the Loose Tour which will start in the new year.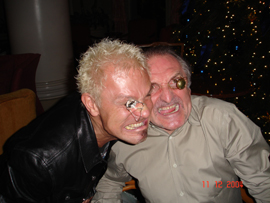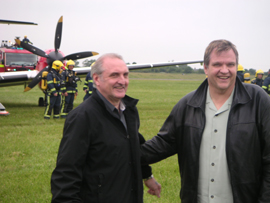 My Birthday with Rudolf!! Meat Loaf Aircraft Charter incident!!
-RCL-Q-What is Bill Barclays fav countries to tour in and what foods do you prefer?
8.. North America, Canada, Far East, Australia, Japan. As far as food is concerned, Iím very fussy. I love to dine at fine restaurants on my days off. I like sushi, Italian, seafood, and the occasional steak.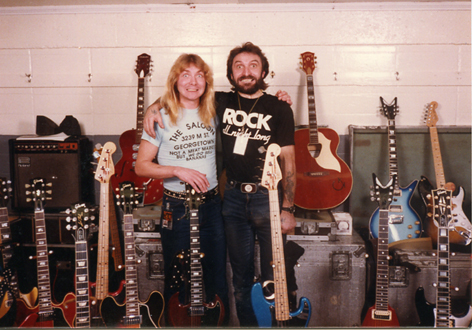 Me and my buddy Davie
-RCL-Q- Is Japan a bigger task to coordinate tours and deal with promoters, or do you find that there is no big difference than other markets now that bands from the west have been touring there for decades.
9.
In fact, Japan is probably one to easiest countries to coordinate with promoters, etc.

Once they have all the information, all logistics are taken care of locally and they make it as easy as possible for the touring artist.

Try touring in Central/South America.

Now that is fun!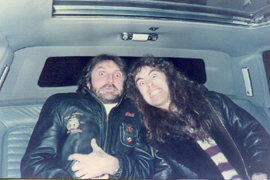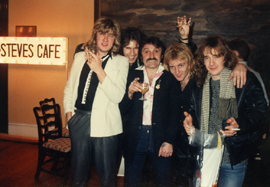 Bill & Steve Harris NYC!! Steve Harris Stag
-RCL-Q- What is your schedule look like for 2007.
10. The rest of 2006 and 2007 going into 2008, I will be touring with Meatloaf on the Bat Out of Hell 3 Monster on the Loose Tour.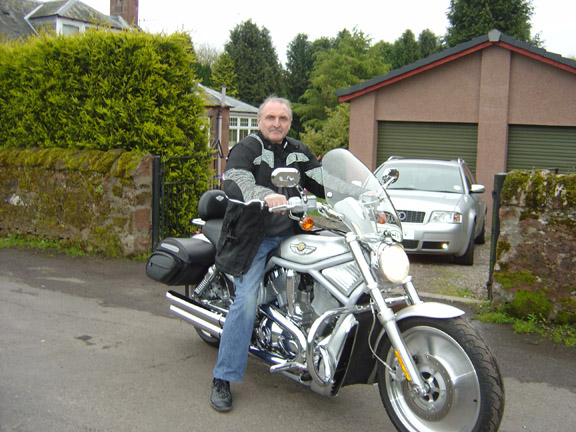 Bill's Toys
-RCL-Q- Bill we appreciate you taking the time to answer RCL questions as we know you are the busiest of crew. This is your chance to plug artists or companies and websites you wish. Thanks again Bill. You Rock.
11. Thanks to Iron Maiden, Meat Loaf, Scorpions, Motley Crue, Mick Jones, Sarah Brightman, Anthrax, Joe Satriani, Living Colour and Foreigner and the many other artists I have worked for in the past for their continued support. Thanks to Laurence & Barbara Barker and Family for keeping me sane, Leo & Sue Baker, Maggie French, Simon Redwood, Tony Wigens, Peter Kirkman, Cosmo, Robbie Price, Teresa Armitage, Nick Fisher, Kasim Sulton, the Meat Loaf Band, Joe Lennane, GABRIELA AUSTEN, Graham Venn, Stewart Young, Nick Caris, Phil Carson. PRG Group, Nick Jackson, Micky Curbishley, Marc Coleman, Paul Newman @ Electrotec, Janco Trucking, Caleb,John & Jody Wadsworth (My No 1 Coach Driver for over 10 years) at Florida Coach, Nunu at the Music Bank, SoundMoves, Mark, Sandy and Timmy at Transam Trucking, Tina & Louise at The Tour Company, Michelle at Air Apparent, Merrie Hart at Hard to Handle Management, Mary Hooton at Part Rock Management, Allen Jeff and Jordan at 10th Street Management, Simon Fuller, Chris Vaughan & Keely, Jorg and Tim at Beat the Street Coaches and Beaky at Phoenix Coaches, Access Passes and Smart Art. The women in my life. And for those I have not mentioned, you know who you are, at least I hope you do.


"RCL STAFF" Editor & Chief- Darrell DWaRf Millar....Web Design- Unkledunk Multi-Media...Field Team- Rock Show Personal Inc...Host- Darrell Millar's Time Capsule 2002-2007..This site is non-profit and paid for by DMTC.
All rights Reserved RCL 2003-2006 [CONTACT] [LINKS] [ON TOUR] [ARCHIVES]