The gear I am currently using is as follows. I have found my new drumsticks. After playing a plastic stick for over a decade I am back playing wood sticks again. My choice was with the Los Cabos Company. After trying different 2b models they offer I went with the Shot Gun double butt end series. Love them.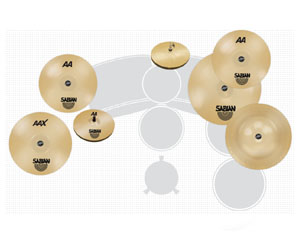 When it comes to cymbals, I am a Sabian man all the way. Signed on to Sabian by Roy Edmunds in the mid 80's, I have never had a reason to look elsewhere. I use 2 hats. The set mounted on the kick drum are (D)13" HH regular, and my main hats are (A)14" AA rock hats. I use a (F) 22" AA rock ride, a (G)22" AA Chinese, a (B)19" AAX dark crash and two (C,E)18" AA medium rock crashes. Sometimes I use AAX 18" medium metal crashes, in place of the AA 18". These cymbals really hold up and take a beating as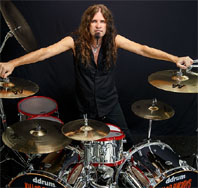 well as cut through the high volume guitars I have to deal with in Laidlaw and the pounding metal of KiLLeR DWaRfS. The band members say they have to deal with the volume of the cymbals so we are all happy! When it comes to drums, as of 2013 I am a ddrum man. Love this company and the drums. I believe the kit I fondly call "The Pirate Kit" is my dream drum set. I started out playing a Tama kit in Sphinx and Slingerlands for the first 2 records with "Killer Dwarfs", then switched to Ludwig. The kit I play at present I am very happy with. It's the ddrum Reflex series made of Alder wood. 2 kicks 16x24, 1 rack 8x12, 2 floor toms 12x14 and 14x16. I also use a ddrum wood snare 5.5x14 which I am just over the moon about. These drums just sound beautiful all around. Evans drum heads are the perfect marriage for these drums. I am very happy about my relationship with Evans Drum Heads. Great company. Great sounding heads. I keep the "Pirate Kit" happy with Humes and Berg cases exclusive. If you cherish your drum kit like I do, then make sure they are protected by quality cases. In todays Rock & Roll, Humes & Berg cases have became invaluable to me. We now travel in all situations. Not just the tour bus anymore. We use trailers and more afforable means of transportation. Playing on the Monsters Of Rock Cruise ship for example. Dragging big heavy road cases on board is a huge task compared to the easily handled Humes and Berg cases. Also air travel as well is less expensive. I can check my hardware in as actual luggage on fly in's. For my singing endeavors I am endorsed by powerhouse mic company Sennheiser. I use the G2 wirelss unit. Nice piece of gear that is. Also I use all Sennheiser mic's on my drums and have Sennheiser in ear monitors. So whether I am singing or drumming, it's all Sennheiser for me. A huge Thank You from me, to the good people of these companies. This is what fuels the Darrell Dwarf performance.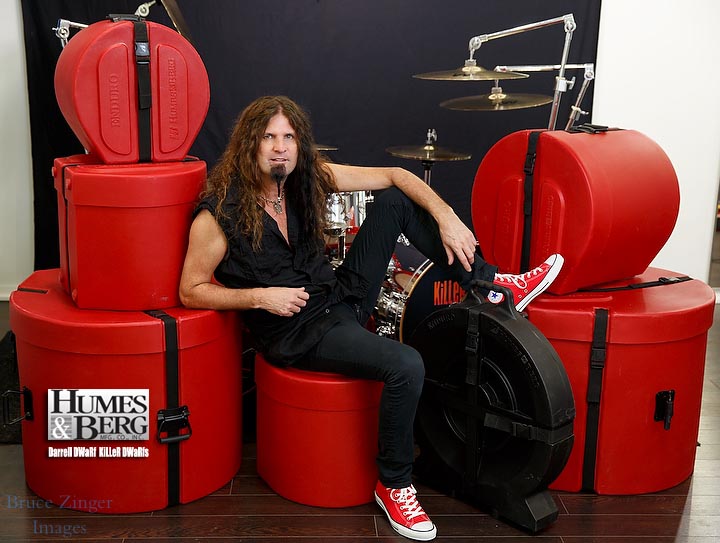 [MAIN] [NEWS] [DISCOGRAPHY] [LINKS] [KILLERDWARFS] [LAIDLAW] [GEAR] [ARCHIVES] [TOUR] All Rights Reserved. Darrell Millar's Time Capsule 2001-2005 Web Design Unkledunk Multi-Media