The Killer Dwarfs were founded by Russ Graham and I in Quebec City, Quebec, Canada in the early 80's. The band was a fusion of 2 bands. My band at the time "Sphinx" and Russ' band at the time "Ozz". Russ' project was an Alice Cooper tribute act and Sphinx was a cover band of sorts playing several artists music.
It just turns out that Russ and I were both at the same level with our respective bands. Burned out on it. We disbanded both acts bringing one member from each. I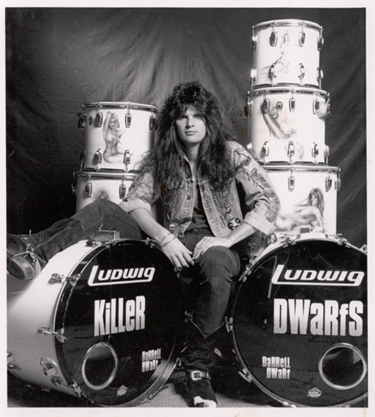 brought Bryce Trewin (Guitar) and Russ brought Angelo Fodero (Bass), thus the Killer Dwarfs were formed. After our debut album, we parted ways with Bryce and Angelo. Mike Hall and Bad Ronbo were brought in and we recorded Stand Tall, Big Deal and Dirty Weapons as that line-up. Gerry Finn replaced Mike on guitar and Method To The Madness was the result. We then parted ways with Gerry and continued to tour. Jason Hook came in on guitar and finally,

Steve Skull, who was with us when

we finally called it a day.

The band recorded 5 albums and signed 3 record deals in all. The Dwarfs opened for artists such as The Michael Schenker Group, Joe Perry Project, Iron Maiden, Saxon, Ronnie James Dio, Accept, Joan Jett, Skid Row, and Pantera to name a few, as well as several successful headlining tours worldwide. I was very lucky to record a couple of Dwarf CD's with Andy Johns as engineer and producer. Known to be hard on drummers, I can't say I wasn't intimidated. When I was in pre-production and I puked in the garbage can next to my kit, because my birthday was the night before in ole LA town, I think that's when he said this mate is alright. Andy's credentials are more than impressive working with Led Zep, Rod Stewart, Van Halen and the Rolling Stones. I don't have the space for the 200 plus star artist's he has worked with. I learned allot from the man about recording. Killer Dwarfs have re-united as of the summer of 2013. Start @ One is available for the first time in 20 years on itunes and amazon. The band is touring once again and

sounding heavier than ever with the Method To The Madness lineup of Russ, Darrell, Gerry and new blood Johnny Dwarf. For more info on Killer Dwarfs go to www.killerdwarfsband.com. Check NEWS section of the Time Capsule for tour info and regular up-dates on KiLLeR DWaRfS. Personal Contact- KiLLeRDWaRfS@darrellmillar.com





Cd's Circa 1983-1994
Click on Pic's below for larger view!!!
[MAIN]
[NEWS]
[DISCOGRAPHY]
[LINKS]
[KILLERDWARFS]
[LAIDLAW]
[GEAR]
[ARCHIVES]
[TOUR]
All Rights Reserved. Darrell Millar's Time Capsule 2001-2005 Web Design Unkledunk Multi-Media