Sphinx was my first band. Formed when I was in grade school in the 70's with Bryce Trewin, who went on to be the first guitarist for the Killer Dwarfs. Bryce and I learned to play our instruments together listening to the likes of Foghat, Alice Cooper and Johnny Winter. It started out as air guitar and pots and pans for drums. Real instruments came into play shortly after, thanks to our parents. My first kit was a butterscotch color Stewart kit. Bryce had a Silvertone guitar and a Darius amp.Through public school we honed our skills as players. My dad was a jazz piano man and enrolled me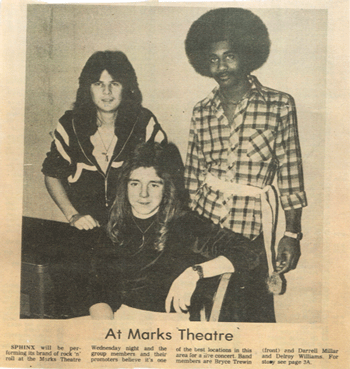 into a years worth of drum lessons, which sent me down the right path. When we hit high school, we hired the first bass player Mike Dunn who was already in grade 12. It was hard to find someone our age that could play. We started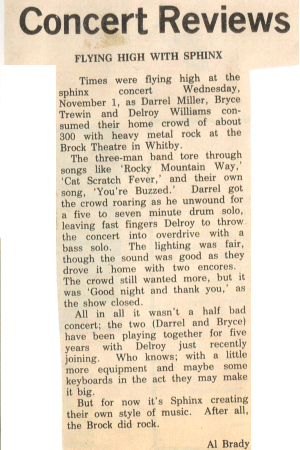 playing at my high school and local clubs in Oshawa, Ont, Canada, where I grew up. Bill Diel, a respected manager took the band on, and he had our parents sign releases with the Liquor Liscense Board so we could play clubs under age. The band changed bass players 2 years later from Mike to Delroy Williams, who is the bass player heard on the tracks of the EP. Delroy was a great player with a real funk feel. We opened for the likes of Max Webster, Ian Thomas band, Goddo, Zon and Hellfield. These were big artists in Canada in the 70's. Delroy left the band 2 years later due to personal problems. In came Johnny Theodoro. By this time we had graduated high school and the band was a well known club act that played covers of Rush, AC/DC and just about any tune that was popular at that time. We went on to tour Ontario, Quebec, the east coast and finally our manager at the time, Frank Scott, moved himself and Sphinx to Edmonton, Alberta. We lived and toured the circuit of Alberta and B.C. for a year solid. The band was very similar to Rush or Triumph, a 3 piece band. I sang 20 songs from the kit a night and Bryce sang as many. After getting burned out on the club circuit, and only achieving 4 original works, it was time to move on for me.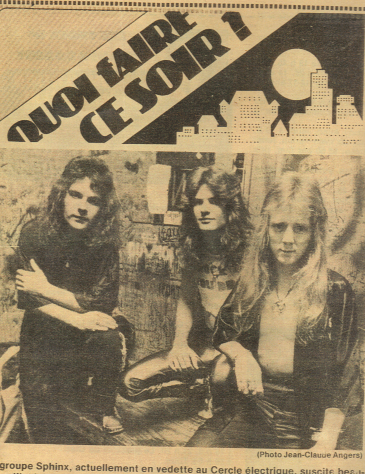 I was 18 and playing one of my last shows with Sphinx in Quebec City, when I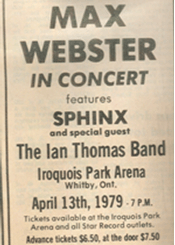 ran into a character named Russ Graham. He had an Alice Cooper Tribute band together called "Ozz", and was playing the club the next day. Rizz and I really hit it off over a bottle of Jack Daniels. We agreed we were both looking for another avenue to vent our respective musical directions. This story continues on in the Killer Dwarfs history books. Four songs were Recorded at Quest Studios (Paul La Chapelle) in Oshawa, Ont, Can. The first track, "Your Buzzed", I sing lead vocals on, as well as backing vocals on all, and the other 3 "Rock and Roll Allstar", "Wasting Time" and "Zeyda", Bryce handles the vocal duties. We were just 15 years old when these songs were written and recorded.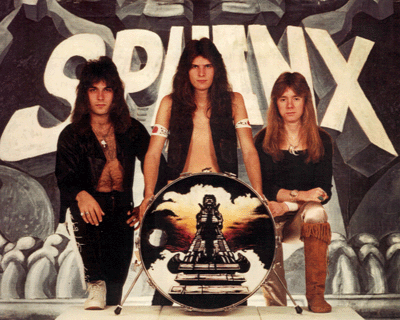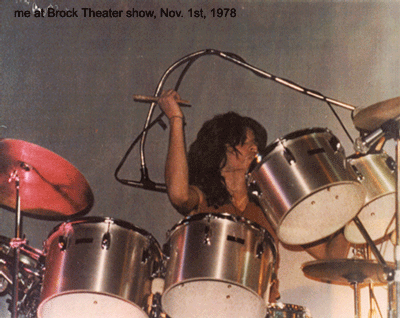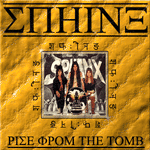 This recording is no longer available.
[MAIN] [NEWS] [DISCOGRAPHY] [LINKS] [KILLERDWARFS] [LAIDLAW] [GEAR] [ARCHIVES] [TOUR] All Rights Reserved. Darrell Millar's Time Capsule 2001-2005 Web Design Unkledunk Multi-Media